" I got to fight a giant robotic scorpion with my fists."
-Chris Avellone, on why Wasteland's in his top 10 games of all time.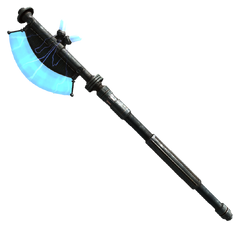 This thread is for the love of all things melee, including unarmed. What game mechanics, weapons, abilities, and perks would you like to see available for melee builds?
Wasteland 2 is a party based game. Melee characters should be fun and useful in every combat, and not end up being dead-weight compared to ranged characters. In a balanced party of 4-6, how do you prevent the melee characters from being too situational and time-consuming?
To me, mixing melee specialists along with ranged, makes the game infinitely more fun to play. In many tactical RPGs, going ranged-only is always the most optimal way to play, and is often distilled to repetitive "line up the broadsides" combat. Having a balanced party that includes viable melee roles offers a far greater variety of tactics and exciting combat scenarios.
There are several crucial gameplay mechanics I think would make melee much more balanced and fun, rather than just boosting raw stats of weapons to make up for all their risks and shortcomings:
Reach weapons
D&D, Roguelike style. Simply, some weapons have more reach than others . A spear, whip, or halberd can attack from 2 or more tiles away.
Arcing weapons and abilities
D&D, Age of Decadence style. Large, cleaving weapons like the Proton Ax, that swing across a wide arc, capable of damaging multiple adjacent targets in one attack. Gives melee characters a useful crowd control capability so they aren't completely left behind as soon as shotguns, machineguns, and big guns come into play.
Melee specific perks and abilities for closing, and staying in combat
Melee characters being viable only when you have the best power-armor is just bad game design. Do it like the classics and give melee characters the tools to engage, and stay in melee through every stage of progression.
Tactical RPGs like ToEE, KoTC, Darklands, Warhammer and Gold Box games have the following mechanics:
-Perks only for close-combat specialists that avoid or mitigate damage.
-Shooting penalties whenever characters are in HtH range.
-Closing attacks like "bull rush" or "charge".
-Attacks of opportunity, where a melee character gets a free attack against opponents attempting to pass through their melee range, or against unsafe actions such as a point-blank aimed shot or reload.
-Bonus damage and attacks for surrounding, and flanking a target in melee.
-Backstab damage whenever a character is directly behind an enemy.
-Melee bonuses against unconscious, and knocked down characters.
Weapon unique effects that can alter playstyle and tactics
Pure damage boosts aren't enough. Having unique effects on weapons can offer new tactics, keeping combat fresh throughout the game. Poisonous giant wasp stingers, disease-causing infested spears, shotgun/dynamite loaded fist weapons, diamond-tipped spears with high armor penetration, sledgehammers that are great for knockdowns and send people sliding across the room, cattle-prods that stun, shivs that are accurate, fast, and have high crit but low base damage - all these flavorful weapons could be updated from the previous games to have useful tactics, even for endgame characters.
Here are a couple staple melee roles I'd like to see viable for teamplay in Wasteland 2:
Strong, tough brute, proficient with 2h weapons. Armed with a big knockdown weapon like a sledgehammer or tree trunk.
For team protection and defense, he's useful for blocking choke points, and standing in the middle of a path to gain free attacks-of-opportunity against critters trying to rush past for the party members in the back. On offense, his large swinging weapons allow him to damage multiple characters bunched together. Against dangerous single targets, he occupies them with knockdowns, and excellent limb crippling ability. Has the perks necessary to do his job and stay useful in combat throughout the entire game, not just with end-game power armor. His weaknesses are being melee, he has to run around a lot, and risks taking overwhelming focused fire from multiple targets while in the thick of things. His accuracy making targeted attacks against precise targets (eyes, sensors, inhibitor chips) is below average.

Agile, sneaky creeper, focused on stealth and precision. Loves to plant timed explosives in underwear. Excellent initiator, able to sneak up to a target and outright kill, or severely debilitate a tough opponent. Melee kills from stealth are silent, and don't break stealth. Melee misses from stealth don't break stealth. Can play defense by staying in stealth during combat, and popping out with a deadly attack against an unaware rusher. Outside of stealth, he can support the brute with his bonuses against knocked down characters, and deadly backstab/flanking damage. High accuracy, critical chance, and critical multipliers means he's great at crippling and blinding. Compared to the brute, has poor untargeted, non-crit damage. Weaker constitution means he can't take as much sustained fire. He's better for hit-and-run, tactical assists, far more successful at doing his damage in bursts than charging in against tough opponents and taking them on face to face. Stealth means he doesn't have access to the heaviest, damage-reducing armor, and he takes longer to get around the battlefield. In D&D, leveled Rogues can be specialized to cause stat loss for every sneak/flank/backstab attack - having abilities like that keep the melee character viable, helping them pull their weight even when teammates are blowing everything up with heavy artillery.
Depicting Melee in the Wasteland universe
:
(Or how to get rid of a Vertibird)
Click image