In case anyone cares, i took some notes. Not 100% complete though (i missed a few). Note its ALL RECIPES:
Patriarch Palace: Blastermaster Gun (Assault rifle)
Survivalist Bunker: Cryo Capsule (melee mod), Ragged Choke
Arapaho Caravan: Cardboard Box (armor)
Bizarre (Warrens): Foam Finger (Melee buffer)
Gett Homestead: Razor Linkage
Monster Army Bunker: Hoser (HMG)
Clown Museum: WASP Gun (Flamer)
Scorpi outside Tellurium mine: Incendiary Linkage
Tellurium Mine: HE Fuse Linkage
Union Station: Plasma Whip (Blade)
Dep. Energy: Cryocell Linkage, Orb Cannon (Rocket)
Snowed Inn: Shortened Barrel, Grenade Launcher (shotgun)
Scorpi West: Plasma Linkage
Denver: Spike Driver (handgun), Boom Mace (Blunt)
Machine Com: Toxic Linkage, Razor Box
Aspen: Crossfire (SMG), Lightweight Barrel
Litttle Hell: Freeze Ray (sniper), Heart stopper (Brawl), Advanced Materials Mag
Knox Bison: Incendiary Capsule
Cannibal: Crippling Linkage
Yuma: Extended Choke, HE Capsule
Yuma - Star Collector Mine: Farsight Computer Assisted Scope
Yuma - after Liberty: Quickfire Mag
Some recipes are in world caches and replaced skill books. So if you remember locations of skill books, this might help:
Brawling --> Oversized Mag
Assault R.--> Wide Spectrum Light
Nerd stuff --> Toxin Cell
Weird Science --> Deadeye Exp. Scope
Weaponsmith --> Computer Assisted Laser Sight
Nooka Zooka: added Concussion Bell
List of weapon recipes and what they need (beside scrap):
Blastermastre: SOCOM assault rifle, HE Fuse Linkage
Boom Mace: Hydraulic Hammer, HE Capsule
Crossfire: Ripper, Razor Linkage
Foam Finger: 8 Punctured Clown Noses (Junk)
Freeze Ray: SR2000 Argent, Cryocell Linkage
Grenade Launcher: Tactical Shotgun, HE Fuse Linkage
Heartstopper: Power Gauntlet, Incendiary Capsule
Hoser: Minigun, 12 Boars (beer)
Orb Cannon: Javelin, Plasma Linkage
Plasma Whip: Proton Axe, Battery Pack
Spike Driver: Guardian, Crippling Linkage
WASP Gun: Incinerator, Toxic Linkage
Finally screenshots of the crafted weapons: Note that weapon damage can be modified by character stats (i tried to keep it as neutral as possible tho)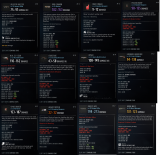 Foam FInger is a super nice buffing item and definitely worht crafting. I also like the Blaster Master on my explosives char for the grenade launcher ability (3AP and doesnt cost ammo which is nice for sneak attacks). Crossfire is a nice alternative SMG if you want to diversify ammo (i.e. you have other SMG users with .45 weapons like Ripper or PDW). Grenade launcher has a huge cone and could be alright. But (like with other craftables) it uses special ammo that has to be crafted with scraps too. Spike driver also seems nice (finally a handgun with decent dmg + snap shot ability to ramp up strike meter). Btw bit sad that Quickfire mag recipe drops basically when the game is over. I mean its super strong, but it doesnt help anymore at the current location. Maybe relocate it and increase the cost to craft it a lot?
EDIT:
Screenshots of new Steeltown craftables: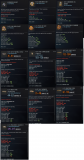 They use Tellurium as (the only) mat: 40 per weapon and 18 per armor piece. You can get around 150-200 in Steeltown but nowhere else it seems.
Also note that Fireball rifle does dmg in an AoE radius, while the Suppressant revolver, HMG and the sniper do dmg in a cone (like shotguns). Tar thrower and the Brawler glove are single target, the blade also does aoe dmg and (at least) dmgs someone behind the original target.
There are also frost and energy versions of the pyro armor with basically the same stats just different dmg type.
The item levels are end game, i.e. char lvl 20+. They can be up to 6 ilvls lower if you are in Steeltown before lvl 20, reducing dmg and armor stats. But other stats seem to be findependant on the ilvl, like fire/frost/energy dmg bonus or strike rate bonus on armor.
Note that there is supposed to be a recipe for an ELITE hazard shield generator, but its origin seems unknown.