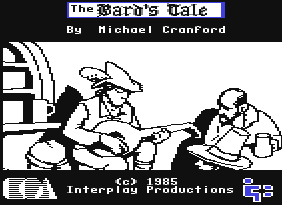 Ok, lets get real here for one rpg-moment. I first played BT1 on release and slavishly ran out down to my local 'computer store' to buy each game as they came out.
Side note: Back before the EU, England used to get US-developed games on the same day as the states, that being a Tuesday and at the dollar price which made rpg gaming and gaming generally dirt cheap for us Brits. Also, we used to get them WAY ahead of that smelly European crowd because both nations spoke English as their native tongue. However, France complained about 'unfair advantage' and Brussels demanded the US localise their games into many different European languages and ensure the games came out on the same day which ended up a Thursday or Friday. The Brits went ballistic because a game that we once purchased on the same day as the USA now meant we had to wait up to 18 months for each game as each title had to have all the various languages translated and then implemented into the game (localisation)

True story.
Back on track. I think I can recognise a Bards Tale game when I see one and BT4 reeks of authenticity. From the mythology to the characterisation suggests the provenance is the real deal. The soundtrack, the types of puzzles, the music, the voice overs,
all
aspects of the game suggest Bards Tale 4 is the fourth direct descendent of Michael Cranfords (ed) game. So please, whoever, is trying to suggest this isn't Bards Tale take a step back and look again. Have the devs dragged the IP screaming and bawling into the 21st century? Yes, and if the beta is anything to go by they have done a fantastic job.
In closing, I invested considerably in this game and for me Bards Tale Barrows Deep is everything I had hoped for and more.
Finally, I also pledged to
Underworld Ascendant
and in comparison BT4 is an rpg of the highest calibre.
Thank-you Inexile.
edit.
To refresh people's memories here is some gameplay from Bards Tale (1986)
https://m.youtube.com/watch?v=TriKOGraB-A
and now, a few minutes of BT Barrows Deep:
https://www.youtube.com/watch?v=hRtfE7-q0g0
(Eurogamer made a couple of basic mistakes in the beta review, there was never a 'narrator' in authentic, 'root' BT games and all have been first person)
I do understand we all have very fond, golden memories of Bards Tale; however, the (first) video example above should remind us of the difference between fond memories and the reality of 80's gaming.